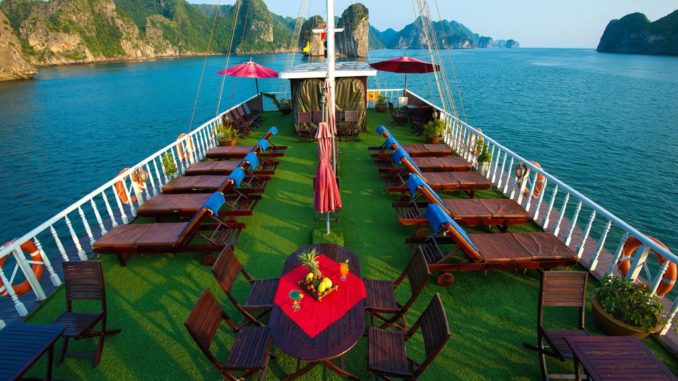 SYRENA CRUISES ITINERARY FOR 2 DAYS 1 NIGHT 178 usd/person
First day
To Halong City, embarkation at Syrena Harbor
You will be transfer to Cruise by tender.
Check in while enjoy a welcome drink and cruise briefing.
Have lunch on Lotus on-board restaurant while cruising in the magnificent Bai Tu Long Bay at the same time admiring the fascinating rock formations in the Bay. Cruise to Vung Vieng Floating Fishing Village.
Arrive at Vung Vieng Floating Fishing Village.
Visit the Vung Vieng Floating Fishing Village by a traditionally woven boat rowed by a local boatman for a period of one hour.  During the trip, you will meet see the how the locals live.  You will pass through floating houses of 65 families, a floating school & floating information center.
By the way to visit workshop of Pearl.
Back to the boat and continue cruising to the Titop Island. During cruise, foot reflexology and massage services are available on the boat.
Arrive at Titop Island. There are 2 programs for you to choose: 1. Enjoy swimming, relaxing on the beach or climb the steps of the Rock to the top of the island to take the romantic moment of sunset by your camera. Titop island has a man maid beach that is featured by historical. Towels will be supplied.  2. If you want to discovery mountain and water of Halong Bay, you can rent a kayak for couple then row around, contact to Cruise Manager for kayaking order.
We will spend about 45 minutes on this island.
Back to the Cruises, relax, takes bathing.
The demonstration of some Vietnam traditional food will be on the sundeck. You can observe and do some for yourself.
Buffet dinner is served with a variety of Vietnamese Fusion cuisine.
Evening activities include: film entertainment in the dining room at 21:00 hrs.  Board and card games are accessible or join the squid fishing on boat with our crew.  Foot reflexology & massage services will also be available.
Happy hour – Buy one drink get one free (wine excluded). Cruise will anchor at the area near Trong Cave and Titop Island  End of the program of the first day.
SECOND DAY 
Enjoy Tai Chi instructions on the sundeck in 30 minutes.
Light breakfast with: Coffee, tea, juice, milk and pastries will be served in the dining room.
After breakfast, you will be tendered to the Surprise Cave. Walk up 100 steps to the entrance of the cave and tour around for approximately 45 minutes. It is one of most beautiful cave of Halong Bay.
Upon return to the boat, take time to freshen up and check out of the cabins. Put the luggage out of cabin. Cruise on the way back Syrena pier in different water way.
Enjoy another buffet or set menu Brunch served in the Lotus restaurant. After meal, time for you to settle bills in the dining room after meal.
Relax on the sundeck or in the dining room and enjoy the bay scenery as we approach the pier.
Arrive at Syrena pier.
Price: 178 usd /person